About the artist
In the above picture of me taken January 2001, next to me is the only picture of "Borzoi Window". This window resides in my parent's home.

This web site started as just a place to exhibit my creations and has become more about all of me. I've added links to pictures of my Whippets and their friends, a link about my deceased teacher and friend Rex, and a link to the experiences of myself and family and friends with Taurox. I am an outgoing person. I'm deeply spiritual and non-judgmental of others. I play classical piano. Roller coasters, white water rafting and skiing are what I consider serious fun.

I graduated Famous Artists School in Hartford, CT and attended classes at Fleisher Art Memorial in Philadelphia, PA, however most of what I've learned has been in the doing. Starting with sculpture in 1983, when a small one-inch tall silver horse was cast into silver, the life long interest to create became a compulsion. Actually the first sculpture was at age five in kindergarten when I made a clay with a cobalt blue glaze fired astray for my parents. That started my love of creating, art always being my favorite class.

In 1990 I started stained glass because I wanted to make a cape held by the woman of a pair of lovers (a wood sculpture); this is still not manifest. Obviously though, this medium became important, and explained a repetitive dream I didn't understand since I was a young child. In 1998 I met Rex Cravat and was lucky enough to learn from him the hot glass skill that I have long wanted to acquire. He was a master; I was most fortunate to have studied under him the last three years of his life.

Below my friend Stan wrote beautiful words about me, and pictures of myself and my girls - two most adorable and wonderful Whippets. They are like my children. I feel extra fortunate to have been able to create the works shown on this site, as I have not starved or suffered in order to make them be (as is usual).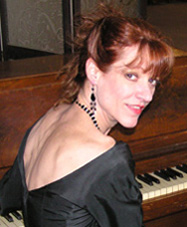 Olan Mills 1993 Fall of 2003


| | |
| --- | --- |
| Tru-Be at age 8 months - Autumn 2004 | July 1, 2000 - Lacy (age 13 in 2006) |
---
"Beauty manifests in the world through the vision of human beings. Those people who manifest created beauty we call artists. The emotional response we have to that beauty is universal, those who channel it each are unique.

Consider Sharon Filetti. Like us, she goes about the business of living daily. But unlike most of us, Sharon brings beauty into the world.

Her tangible media are glass and metal. In two and three dimensions she marries color to form, shape to composition, creating stained glass windows, lamps and sculptured pieces.

On first glance, Sharon Filetti's windows resemble a painting, but a closer look reveals a depth that only an inner luminosity can lend to an image.

Light also attracted the artist to the design and making of Tiffany style lamps, once again a union of glass and metal. The incandescence of the objects gives them a far greater dimension than can mere material form.

The metal human and animal figures Filetti sculpts, as well as her abstracts, are universes in themselves, possessing a cosmic significance beyond their individual existence.

Like any artist Sharon Filetti speaks of the universal, and like every artist, her message is couched in terms of the sublime beauty that is the ecstasy of existence."

- by Stanley Warren, an American poet.

---
Work in progress:
Glass flowers and sculptures
If you are interested in contacting me, please write me at:
ArtistPA@rcn.com

---
This page last updated April, 2005.