Tru-Be (Tru Believer age 2 in '06) and Elafi (7 months in April '06) and EtC. (10 weeks 3/6/06) live with Sharon.
Tink (white Borzoi) Bubbles (brown and white Borzoi) and Tenny (not shown) live with Sharon's mom, Ann.
Io (black and white Borzoi) lives with Sharon's brother Mark. Stella is a neighbor visitor Australian Shepard.
And the four fawn colored Whippets are Lucy and Lilly, (Anne Stark's) and they are the mothers to
Lea and Willow (play friends of Tru-Be and Lacy), who live with Peter Otterson, a nearby friend of Sharon's.
---
Lacy's Story and Tribute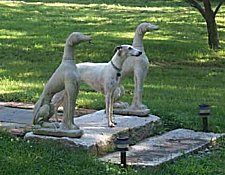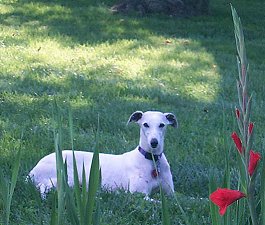 Lacy's last day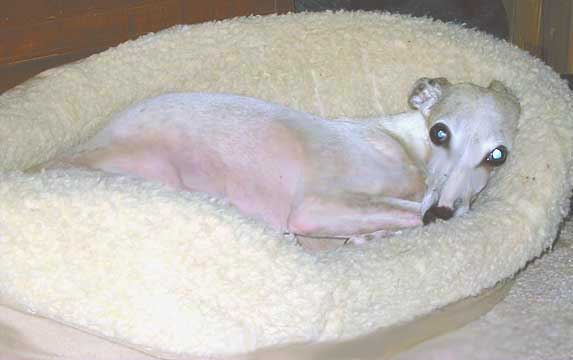 Lacy has lived her name, delicate as lace, beautiful and timeless. Her beginnings were rough, only evidenced by her behavior after she came to me at age 3. Peter (my x boyfriend now), barked at Lacy the first time they met. Lacy ran away scared. I learned quickly she was afraid of men. And she wasn't house trained! The first couple of days she did her business in the house.
At that time in my life, I was recouping from a stroke. I still walked rather slow and with a significant limp. And at that time a breeder friend had a litter of 11 puppies! At their tender age of 5 weeks I had two of the smallest pups stay with me short term, in order to help them grow better.
Because of her problems, and all that I had going on then, I almost sent her back after the first day because she seemed too much for me to cope with while doing the work of coming back from stroke. It was my Mom that knew and made me keep her around long enough for me to see Lacy's most wonderful nature, and so much like my Gwen was too. Gwen was my first Whippet, with me for 17 years, who had left me just a couple months before Lacy came.
Lacy settled in and she learned to use the dog door and stopped doing her business in the house. Lacy can go anywhere with me off lead, through a crowd or in down town Philadelphia. Like Gwen, Lacy listens to me absolutely, even so far as to stop the chase of a squirrel if I call.
Lacy had gone to her first home as a baby, and was returned to her breeder when that couple divorced. She was not doing well with kennel life. Because of her mild separation anxiety, She goes almost everywhere with me - even now as I write this during her last days, she is with me at my job. I'm a Visiting Angel (senior health care assistant).
My client Charlotte is not much of a dog person, obsessively clean being a big and important part of her life. But even now, barely functioning, Lacy has won another heart. Charlotte has mid stage Alzheimer's, yet she remembers Lacy from day to day. She pats her and smiles and even giggles like a child. To remember Lacy's name when she doesn't even remember her son's name tells it all.
Lacy is not just great with people, she is great with other dogs too, especially puppies. The first puppy Lacy raised was Lea. Lacy was eight when Lea came to live with my x Peter and I and Lacy. Lea was the first Piper Whippet (Anne Stark in Cincinnati - www.piperspuppies4u).
When Lea was a year old Peter and I split up. Lea went with me. To his surprise (because he wasn't a dog person), Peter missed her terribly. So the second Piper Whippet came to PA. Peter's Willow is a carbon copy of Lea even though they have different parents and only their grandmother in common genetically. Peter would bring Willow over to my house when he went to work (I worked at home then). Willow and Lea bonded and Lacy raised her second puppy.
When I was moving an hour's drive away, I made the difficult but right decision to give Lea to Peter and Willow. Willow had never been alone, and Lea tried to bolt out the door whenever I opened it. The couple times she did manage to escape, she would run far and get lost, and only the kindness of a stranger who called my phone number gotten from her tag, got her back to me. I was in worried panic every she was gone. Peter has an eight foot fence and a double door system, so I knew giving Lea to Willow and Peter was best for all.
So Lacy and I were alone again. For the third year in a row, we drove to Cincinnati from near Philadelphia, and brought home Fauna to join us, and Lacy raised her third puppy. At six months old to the day, the day before my birthday, (a too athletic for her own good) Fauna jumped a six foot fence, amazingly followed by Lacy who had never jumped out of any fence. Fauna ran about half a mile the only wrong direction, right in front of a car. Unfortunately, Lacy saw this. The person who stopped and tried to catch her said she ran the opposite direction (back home) howling. That is probably the only time in her life that Lacy howled. She was very depressed for several days.

When I called Anne to tell her about Fauna, I knew she didn't have any more puppies and wasn't going to have anymore until the following year. What I didn't know, is the only time ever, Anne had six years prior, sold a puppy under the condition that she got pick of her first litter. Anne was getting that puppy in two days! Even though she had planned on keeping this puppy, because of my loss of Fauna, she let me have her. So Lacy raised her fourth Piper puppy, Ch. Pipers Tru Believer (Tru-Be). Tru-Be helped heal the hearts of everyone who had known Fauna.
About a year later, I still wanted a solid fawn bitch (Lea, Willow and Fauna are all solid fawn with a smidge of white). I had wanted this since I saw the first one 25 years prior. Anne's Lucy and Lilly were having their last litters. Each had always thrown solid fawn girls in every litter they ever had. But as luck would have it, neither had one this time.
Fortunately, just next door to my Mom, Polly Clement (co-owned with Karen Robertson) had bred her Marnie Ch. Seaspell's Point Cabria). I adored the smallest puppy, one of two solid fawn puppies in that litter, from day one! Cabria's Secret of the Sea her AKC name, Elafi (means fawn and faun in Greek), is the fifth puppy Lacy raised.

I thought that was it. Three was my limit, I thought. When Elafi was six months old, well I've always loved the look of Italian Greyhounds, but had just a week before given up on the idea because of their issues. Then Anne told me about a puppy she had that was born six ounces, and tube fed and lucky to be alive. The other puppy in that litter that was also born six ounces had caught up, but this one was still half the size of all the others at eight weeks old. So EtC. came to live with us, a large IG in a Whippet body! She is now at six months old 17 ½" tall (she can course!), and 19 pounds! And Lacy raised a sixth puppy.
A perfect Mommy/sister, Lacy never hurt any puppy (or any other creature), yet still taught each one to give her space and respect. Every once in awhile she would even play with them. Lacy has always traveled with me in the back seat of my car which has four inches of foam covered by fur. Lacy has taught all the other puppies to ride well in the car too.
She lets her sisters get attention while quietly waiting to get hers. Her non-pushy gentle loving nature won over many hearts in her lifetime, especially mine. I suspect even in these last days, she's holding on just for me. Her tired body has lost all the extra weight she had from eating whatever edible she found whenever or wherever she could. I pray this most wonderful soul has a peaceful passing, she has lived her life with amazing dignity. I will miss her muchly.
Update: Lacy died very quickly and peacefully on July 17, 2006, the above written just a few days before she passed. My x boyfriend wrote two letters to me for Lacy, the first when she started to decline, the second after she passed:
Letter 1
I got your message about Lacy. So sorry and very sad.

I noticed her decline when we went out to pick up 'etc', Lacy's skin was
hanging so loose and she just looked old and run-down.

So when we were in the hotel room and you were in the shower, I cuddled
Lacy and had a talk with her. I said to her it might be the last time I
talked with her and thanked her for changing my mind about Whippets
(especially after young Nova!), and apologized (again) for barking at
her that first time! And reminded her that your Mom was instrumental in
her having a home with us and was so glad for that!

I reminded her that she was a well-traveled multi-state and
multi-country Whippet! I reminded her of her running and jumping like a
deer on the Sander's island on Moose Lake and how she went from being
afraid of the boat, to beating us TO her dog bed in the boat when we
were packing to leave! :)

I told her she (and you) changed my life...that I NEVER thought I'd EVER
have doggies in my house, but her kind and loving personality changed my
mind and opened my heart to dogs in general and Whippets specifically,
and Lea and Willow in particular, and that her 'sisters' were now my
bestest(!) friends.

I told her I loved her and ...
that if I didn't see her again ...
Thank You .. and good-bye.

This, though sad, is a timely reminder that I won't have Lea or Willow
forever either, and that I should do more things with them like hiking
through the wooded trails at Ridley Park, which they love so much.

Well, between tears and blowing my nose, I've saturated 2 bandannas and
should go to bed. I hope she holds on until Terry (the vet) can see her, and that
he can do something for her.

Love You. Give Lacy a hug and kiss from me, and tell her I love her.

Peter
Letter 2
Sorrowful greetings Sharon, I'm so sorry for your loss.

I grieve along with you. I'm gonna look like a wreck tomorrow at work
for how much I've already cried reading (3 times) your wonderful tribute
to Lacy.

I had forgotten until I read your tribute, how Lacy *HAD* raised the
puppies we/you had, and how she was always one to gently lick & wash
them when one was around (so long as they weren't going for her
treat/bone!, then "watch-it", which *also* is a part of a puppy's
growing up!) and how gently she'd treat them.

She really *did* raise six puppies, puppies that she never whelped, to
dog-hood! And did a loving job. (Kind of like my parents adopting me and
raising me to adulthood though I wasn't born to them.).

Lacy was The BEST Mommy/Sister a puppy could *EVER* have!

So I thank Lacy for Lea and Willow. Neither would be who they are now
without Lacy's Mommy/Sisterhood.

And try to take some comfort and joy, that you gave Lacy the *BEST*
years of her life, rescuing her from a kennel life, to a loving family
life. I'm glad I could be a small part of that.

And although your mom may have helped you re-think adopting Lacy,
I *really* think it was *Lacy* who made you re-think adopting
*her*...because Lacy realized that *YOU* were her doggie-human
soul mate...and she wasn't about to let you go...

And now Lacy once again is bounding like a deer, free of pain, in fields
of golden grass with Gwen and Fauna, playfully chasing squirrels and
rabbits that they'll never hurt and who enjoy the chase and the fun spin
from Gwen now and then. :)

And I'm sure when they rest from their play together, they look back to
the gate, waiting for the day you will walk through and join them again
in bliss...and start a new adventure together.

Peter
---
The Story of "The Golden Girls"
As mentioned above, I grew up in a show home. It was actually far more than that. Originally it was my dad that wanted a Borzoi, however it was my mom that really did a lot with them! My mom, Ann Filetti, helped start lure coursing on the east coast. Vale Vue Kennels held the first trials east of California. Mom was corresponding secretary for the Borzoi Club of America for a few years, was president of the Borzoi Club of Delaware Valley for at least a year, and wrote several articles that were published in The Gazette (a magazine devoted to Borzoi). Her good friend Polly Clement is a family friend for nearly 40 years, and is also into Borzoi. Ann bought her biggest winner Rugay Aspor of Pheasant Hill from a litter that Polly bred! Rugay had a Best of Breed at Westminster! and was a triple crown champion (breed, coursing and obedience), Mom having 2 of only 10 in the history of the breed.
Now Polly has done some big winning too! Her present Whippet Marnie (Champion Seaspell Point Cabreia), the mother of my newest Elafi, is the biggest winning Whippet ever, (I think), being the only one ever to be in the top 20 in the country five years in a row!
Marcia came from a dog show family who had Chow Chow's and Boston Terriers. Marcia also had a Borzoi from Polly that had a Best of Breed at Westminster! Marcia has stewarded at countless matches and shows. She was president of the Borzoi Club of America for three years. Polly and Marcia are founding members of the Borzoi Club of Delaware Valley. Marcia is currently President of the Greater Philadelphia Dog Fanciers Club and on the board of the Bryn Mawr Kennel Club.
So in 2003 these three decided to build houses next door to each other! All their yards have fences with gates between them and once in awhile all the dogs play together. That's Ann's 3 Borzoi with my 4 Whippets (during the day), Polly's 2 Borzoi and 3 Whippets, and Marcia's 1 Borzoi and 1 Irish Wolfhound, for a total of 14!)
In the dog world these three women have come to be known as "The Golden Girls". Recently The Borzoi Club of Delaware Valley decided to honor them while they are all still alive and held a party for them all. This wonderful picture was blown up to poster size and a good time was had by all.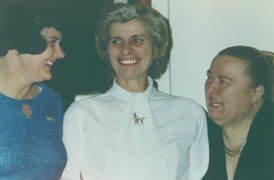 Ann Filetti
July 20, 1933 - July 8, 2007
For those of you that don't already know, my mom Ann Filetti is no longer suffering and died this last Sunday, July 8. She was to be 74 on July 20. Early last year she had a fall that hurt her shoulder. Several months later as that whole arm slowly lost the ability to do anything, and many tests were done, in September, she was diagnosed with ALS (Lou Gehrig's disease). This was not a usual presentation but nothing about my mother was usual, she was an extraordinary woman in countless ways.

Last September she was still driving and living life as always before except for the arm. Her speech was the next thing to go, then swallowing, so a feeding tube was installed, that was spring this year. She started falling and had two falls in the last few weeks that sent her to the hospital. The last one caused a sub-dural hematoma that caused her to see double, right to the end (about a month). She is at peace now and I'm grateful that her suffering was not prolonged.

Her life was full! She and Dad (still living) have six children (I'm the oldest), and nine grandchildren. And, there are many or her children's friends that called her Mom and feel the role. Her heart was open to anyone.

She worked for the Census for many years after raising her children. While we were growing up she was the corresponding secretary to the Borzoi Club of America and the president of Borzoi Club of Delaware Valley . She wrote many letters and articles about dogs and was published many times. She was politically interested and wrote to her representatives regularly.

As a young woman, Mom flew glider planes. She won (one of three needed to go) the equestrian Olympic trials. When I was in my teens, she purchased and taught herself how to use a computer; the day before she died she used a laptop to check her email. Below is a pic of Mom riding a little more than a month ago at Thorncroft Equestrian Center which is set up to accommodate the handicapped. Her expression tells everything. We boarded our horses there when we had them. I'm very grateful to Shelly Shultis and Saunders Dixon who made riding, and thus the joy, possible.

She had quite a spirit! Always loving, she was so full of grace - it's synonymous with who she was. She is loved by many.